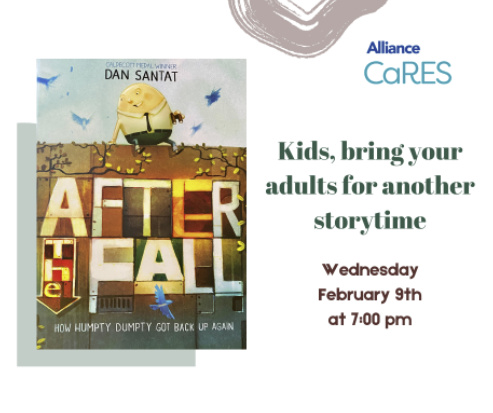 Reading together is more than just a way to improve children's literacy skills and build their imaginations; it's a bridge to work through difficult emotions and situations for adults and children alike.
Join us at 7 p.m. Wednesday, Feb. 9, to hear "After the Fall," by Dan Santat, read to you by our very own CaRES Mentor Racheal Turner.
Everyone knows that when Humpty Dumpty sat on a wall, Humpty Dumpty had a great fall. But what happened after? Now terrified of heights, Humpty can no longer do many of the things he loves most. Will he summon the courage to face his fear?
This book is written for children ages 4-8 but all are welcome to join. We will have activities and questions for children and their adults to engage with. Please bring something to write with and something to write on (optional supplies: scissors, tape or stickers).
One family will be selected to be mailed the book after the event.
Advance registration is required for this event; click here to register.
After registering, you will receive a confirmation email from Zoom containing links and other information.
Because there will be foster children participating, this event cannot be recorded. If you are unable to attend, please check back for the next session of CaRES Storytime.
Contact Christa Murray at christa6@uw.edu with any questions.