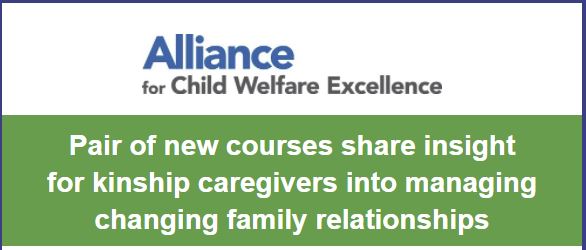 Pair of new courses share insight
for kinship caregivers into managing changing family relationships
Caregivers for a relative child or children face unique circumstances when it comes to relationships and family dynamics. Two new Alliance courses, "Relative/Kinship Caregiving: Navigating Change in Family Dynamics" and "Relative/Kinship Caregiving: Supporting the Child in Your Care," will help you work through the impacts of this change and share skills for managing it.
The pair of courses each deal with different parts of the relative caregiver experience. You will explore changing adult relationships and learn solutions-focused communication skills in one, while the other focuses more on understanding the feelings of the child(ren) in your care and how to best support them, as well as yourself. Both trainings give an overview of resources that will help everyone involved.
At the end of these trainings, you will be more prepared to address challenges and understand how best to support the child(ren) in your care – and yourself.
There are two classes coming up in sequence this week, on Nov. 5 and 6, as well as later this month so save your spot by registering today!
Register Now: Navigating Change in Family Dynamics
Click here: https://bit.ly/34OxTMO
Register Now: Supporting the Child in Your Care
Click here: https://bit.ly/34R7nCI