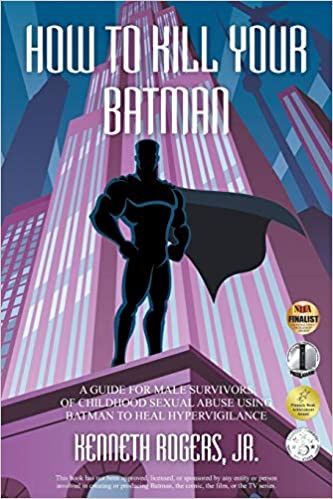 How to Kill Your Batman uses the character Batman to help heal male survivors of childhood sexual abuse.
Using material from his previous award-winning self-help book, Heroes, Villains, and Healing: A Guide for Male Survivors of Child Sexual Abuse Using D.C. Comic Superheroes and Villains , author Kenneth Rogers Jr. this time focuses on the character Batman, to help male survivors understand the pitfalls of hypervigilance after being sexually abused.
The trauma of childhood sexual abuse is related to the childhood trauma in Batman's story, when a young Bruce Wayne witnesses the death of his parents. In the first part of the book, the author explores the term "Boy Code" and the societal norms of being a "real" man.
In part two, the harms of hypervigilance are explained, using Batman and the development of cognitive distortions by male survivors as a result of being sexually abused.
Part three helps survivors understand how to "kill their Batman," allowing them to explore the need for intimacy and healing rather than hypervigilance. Throughout each part, Kenneth includes autobiographical stories of his own struggles with hypervigilance as a sexual abuse survivor striving to heal, grow, and become a "good" man rather than a "real" man.