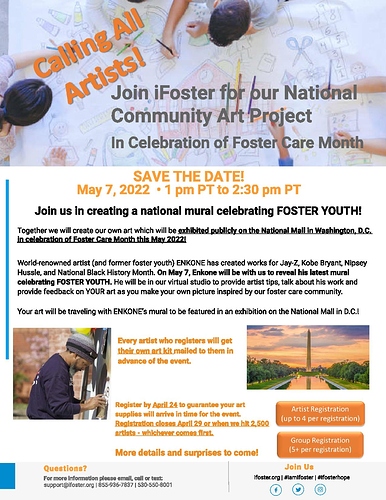 Join us in creating a national mural celebrating FOSTER YOUTH!
Together we will create our own art which will be exhibited publicly on the National Mall in Washington, D.C. in celebration of Foster Care Month this May 2022!
World-renowned artist (and former foster youth) ENKONEhas created works for Jay-Z, Kobe Bryant, Nipsey Hussle, and National Black History Month. On May 7, Enkone will be with us to reveal his latest mural celebrating FOSTER YOUTH. He will be in our virtual studio to provide artist tips, talk about his work and provide feedback on YOUR art as you make your own picture inspired by our foster care community.
Your art will be traveling with ENKONE?s mural to be featured in an exhibition on the National Mall in D.C.!
Register by April 24 to guarantee your art
supplies will arrive in time for the event.
Registration closes April 29 or when we hit 2,500
artists - whichever comes first.
Artist Registration CLICK HERE
Group Registration CLICK HERE