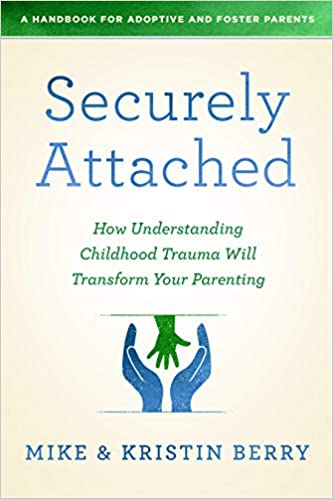 Amazon: https://amzn.to/2HVjcyw
Has Trauma Affected the Child You're Caring For?
Just as you prepared your home to welcome a new child, it is important to prepare your heart and mind—especially if the child has suffered from a background of trauma. Perhaps your invitation for love is met with hostility, and you find that this new member of your family rejects connection. If so, then it's critical to acknowledge the effects of trauma on a child's ability to attach.
Mike and Kristin Berry realized this when they became adoptive and foster parents. In their twenty-year marriage, they have had the joy of adopting eight children and fostering twenty-three. They now offer guidance from their own journey to others parenting a child who has experienced past trauma. In Securely Attached , they offer practical insights that are supported by therapeutic and medical facts, so all parents can provide best for the children in their care. You'll learn:
How trauma changes the brain
How to identify trauma-induced behaviors
How to identify attachment disorders
How to advocate for your child in the community.
Get the help you need to better care for the children in your home. Discover how you can create a family and home that is safe and supportive so your children can grow to trust and become securely attached.